When you think about the best Prague nightlife, a vibrant blend of traditional pubs, beer gardens, and dance clubs immediately comes to mind.
But as dusk falls, these very lanes transform into a hub for party-goers, with the beats from music clubs resonating through the air. Whether hunting for the best bars or looking to dance the night away in the best clubs, Prague has got you covered.
Have you ever spent a Saturday night in an underground bar, experiencing great music in a unique bar setting? Or venture to the heart of the city center, exploring niche venues that offer an unforgettable night?
The lively atmosphere of Prague is not just about having a good time; it's about immersing oneself in a beautiful city's culture and history. 
So, if you're ready to discover the best things Prague's nightlife scene offers, you're in the right place. 
Together, we'll navigate through the best areas, from the tourist-filled Old Town to the bustling New Town, ensuring that your nights in the Czech Republic are as memorable as your days.
What Part of Prague is Best for Nightlife?
Prague is a city of contrasts, and this duality is best seen in its nightlife. From the shadows of the ancient Prague Castle to the modern beats of New Town, different parts of the city offer distinct experiences. 
Let's embark on a short journey through these enclaves.
Old Town (Stare Mesto):

The heartbeat of Prague, the Old Town Square is a testament to history during the day and a bustling epicenter of excitement by night.
Dance to different music genres, from indie rock to house music, in the hidden gems that dot this area. Staré Město is home to the city's main attraction and some of its best bars. 
And, if you find yourself near the banks of the Vltava River, take advantage of the opportunity to have a relaxed evening, soaking in the city's ambiance.
Wenceslas Square:

This popular spot in the city center offers more than just historical landmarks. It's a melting pot of Prague's nightlife scene. Lounge areas in cocktail bars, hip-hop beats in dance clubs, and the echoing laughter from traditional pubs converge here.

Mala Strana:

A stone's throw away from Charles Bridge, Mala Strana is the perfect place for a more relaxed evening. With a great atmosphere, thanks to its jazz docks and unique bars, this area ensures an unforgettable night for those seeking something different.

Prague 2 & Vinohrady: A slightly more relaxed vibe, this area is renowned for its indie rock venues and traditional pubs. It's a slice of authenticity where locals and tourists seamlessly blend.
Exploring The Best Prague's Nightlife (Bars, Clubs and Pubs)
Prague's nightlife isn't just about hitting the latest club or visiting the most popular spot; it's about diving deep into diverse experiences. 
Bars

: Think of them as the city's pulse. From the Ernest Hemingway-inspired Hemingway Bar to the vibrant banks of the Vltava River, these venues offer superb drinks and an even better ambiance. 

Clubs

: The heartbeats of Prague, where electronic music meets hip hop, and where venues like Karlovy Lázně stand tall as the largest club in Central Europe. 

Pubs

: The soul of the Czech capital, traditional pubs are where locals and tourists revel in the city's rich brews and stories.
10 Nightlife Spots in Prague to Check Out
Prague's nights are as diverse and rich as its history, providing everyone from the curious traveler to the seasoned party-goer with many experiences.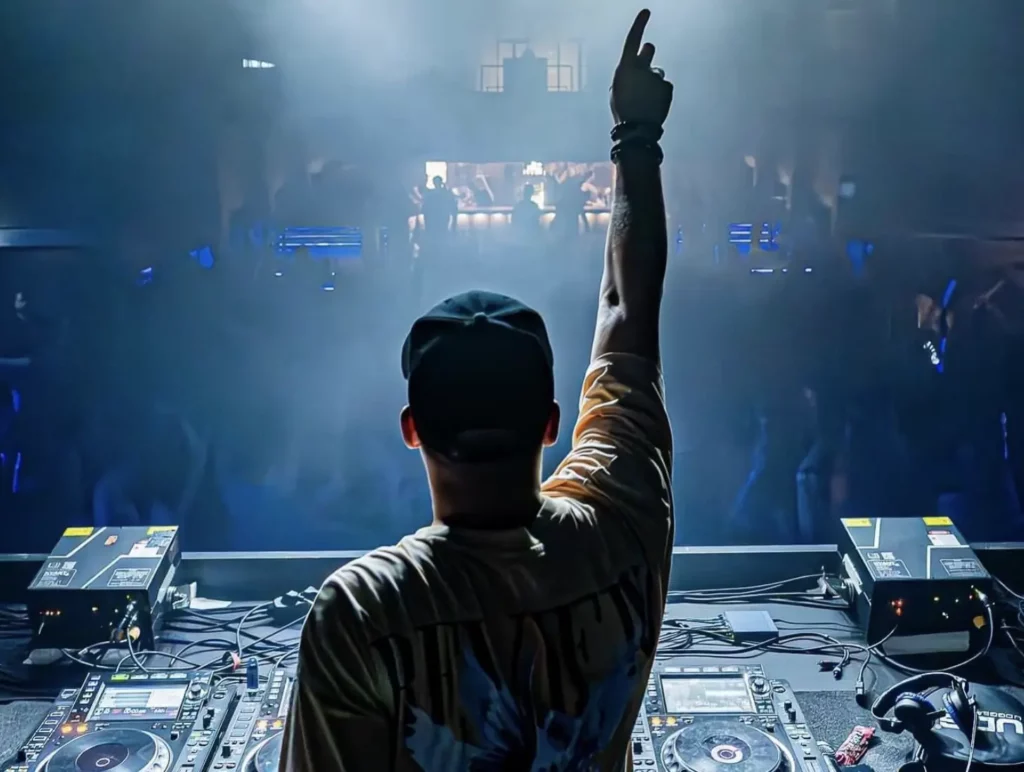 Whether you're looking for a cozy pub, a trendy bar, or a massive club, you'll find it in the Czech capital. Here are 10 nightlife spots in Prague that you should check out:
Hemingway Bar

: For those who appreciate a well-crafted cocktail, this bar is a tribute to the legendary writer 

Ernest Hemingway

. Sip on their signature drinks like 

Papa Doble or Green Fairy

 amidst an ambiance reminiscent of a bygone era. The service here is as top-notch as their cocktails.

Karlovy Lazne

: Overlooking the scenic Vltava River, this isn't just any club—it's Central Europe's nightlife giant. With five unique floors, each dedicated to genres from disco to techno, it's a musical journey. Dive into the ice bar or swim leisurely while enjoying the diverse beats.

Lucerna Music Bar

: A beacon for music enthusiasts, Lucerna's legacy is hosting top-tier concerts and foot-tapping dance parties. This venue has it all, whether you're vibing to retro hits or the latest tracks.

Roxy

: This iconic club is a testament to Prague's commitment to groundbreaking electronic music—renowned DJs and electrifying live bands grace Roxy with their presence, powered by a state-of-the-art sound system.

Cross Club

: This isn't just a club; it's an art piece. The industrial aesthetics and a diverse music lineup make Cross Club a must-visit. Beyond the beats, explore the cafe or soak in art at their gallery.

Reduta Jazz Club

: The epitome of elegance and sophistication, Reduta is where jazz aficionados find solace. Revel in performances by some of the city's best jazz talents in this legendary venue.

James Dean

: Step into the 1950s at this retro haven. From rock 'n' roll vibes to classic American treats, James Dean offers a nostalgic trip down memory lane, complemented by old-school movies.

Zlaty Strom

: Catering to varied musical tastes, from hip-hop beats to tranquil lounge melodies, Zlaty Strom is a snapshot of Prague's dynamic club scene. And for those seeking something edgier, the erotic bar, with its performances, is worth a peek.

Ku Bar

: Infusing modern aesthetics with classic Czech vibes, Ku Bar resonates with house music enthusiasts. Its contemporary decor is perfect for both chilled evenings and vibrant nights.

U Sudu

: Dive deep into Prague's roots at this underground pub. Traditional Czech beer, hearty meals, and the rustic ambiance of dimly lit rooms make U Sudu a genuine Prague experience. The occasional live music and DJ sets add to its allure.
These are just some of the nightlife spots in Prague that you should check out. There are many more options to explore in this amazing city. 
Best Prague Nightlife Tips & Insights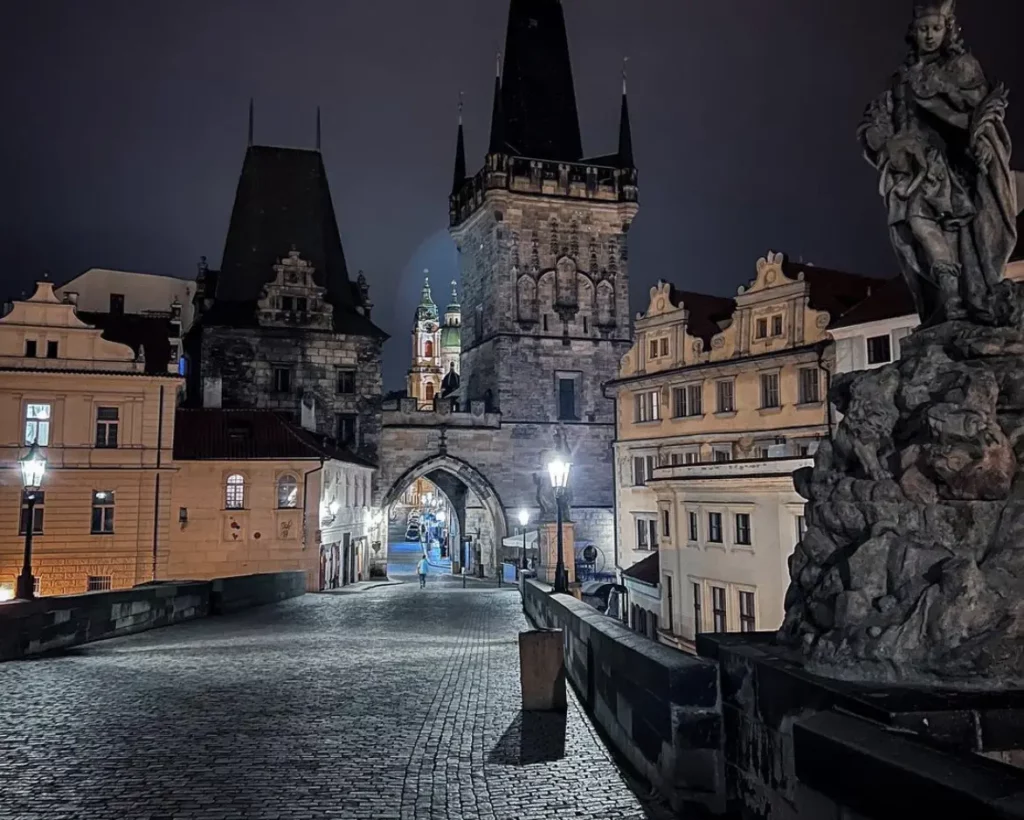 Prague is a city that never sleeps, with a vibrant and diverse nightlife scene that caters to every taste and mood. Here are some insider tips that can enhance your experience:
While Prague is known for its affordability, especially compared to other European cities, it's wise to check prices before ordering, especially in the city center where tourist hotspots are located. Drinks and entry fees are much higher in Prague 1 and 2 than elsewhere, so consider exploring bars, pubs, and clubs further away from Old Town Square and Malá Strana.

Most spots in Prague get lively post-midnight when clubbing, so consider starting your evening in a cozy pub or bar. The Czech Republic is famed for beer, so don't miss trying local brews. You can order a beer like locals by choosing the level of maltiness according to a different rating system than other countries. For example, a 10° beer is light and refreshing, while a 12° beer is more robust and flavorful.

For a more relaxed evening, the banks of the Vltava River are dotted with beautiful beer gardens, offering a blend of good times and a great atmosphere. You can enjoy the city and river views while sipping on your favorite drink and listening to live music.

If you're feeling adventurous, you can try Absinthe, one of the most potent alcoholic drinks in the world. 

Absinthe

 is sold without thujone in almost every country except 

Switzerland

, 

France

, and the 

Czech Republic

. Thujone is a chemical compound that can have hallucinogenic effects. Be careful about how much Absinthe you drink; it can be very potent and dangerous.

Lastly, the city's safety is commendable. Still, it's wise to be cautious like any other major city. Stick with your group and ensure you have a reliable way to get back to your accommodation. Embrace the city's vibrancy, but always with a sprinkle of caution.
Dress Code & Entrance Formalities in Prague Nightlife
It is crucial to be mindful of dress codes and entrance formalities to ensure a smooth experience. Here are some tips to help you out:
Dress Code
Depending on the venue, the dress code can range from casual to smart casual. Most pubs and bars have a relaxed dress code, so jeans, t-shirts, and sneakers are generally acceptable. 
However, some of the more upscale clubs may require a smart-casual dress code, such as collared shirts and dress shoes for men and dresses or chic blouses with heels for women. 
Always check the club's specific requirements before heading out. If you're visiting a themed venue, it might be fun to dress accordingly. For instance, retro bars might appreciate vintage looks.
Entrance Fees & Cover Charges
Most bars and traditional pubs in Prague don't charge an entrance fee. However, many clubs have a cover charge, especially on peak nights. 
Some may offer reduced entrance fees or waive them entirely if you arrive before a certain time. The cover charge can vary depending on the club and the event, so it's advisable to check beforehand.
Identification
Always carry a valid ID. While the legal drinking age in the Czech Republic is 18, many places may ask for identification, especially if you appear younger.
Guest Lists & Reservations
For popular spots or special events, it's advisable to get on a guest list or make a reservation. This not only guarantees entry but can sometimes come with perks like queue jumps. You can contact the venue directly or use online platforms to book your spot.
Tipping
Tipping is customary in Prague. While not mandatory, a tip of around 10% is appreciated if you've received good service.
In all, while Prague is generally laid-back, understanding these nuances can be the key to an enjoyable and hassle-free night in this vibrant city. 
Always check specific venue requirements, and when in doubt, it's better to be slightly overdressed than underdressed.
Transportation & Safety in Prague
A great night out also means ensuring you can move around seamlessly and return safely. Here's a guide to help you navigate Prague's nightlife, whether you're hopping between venues or heading back after a memorable evening.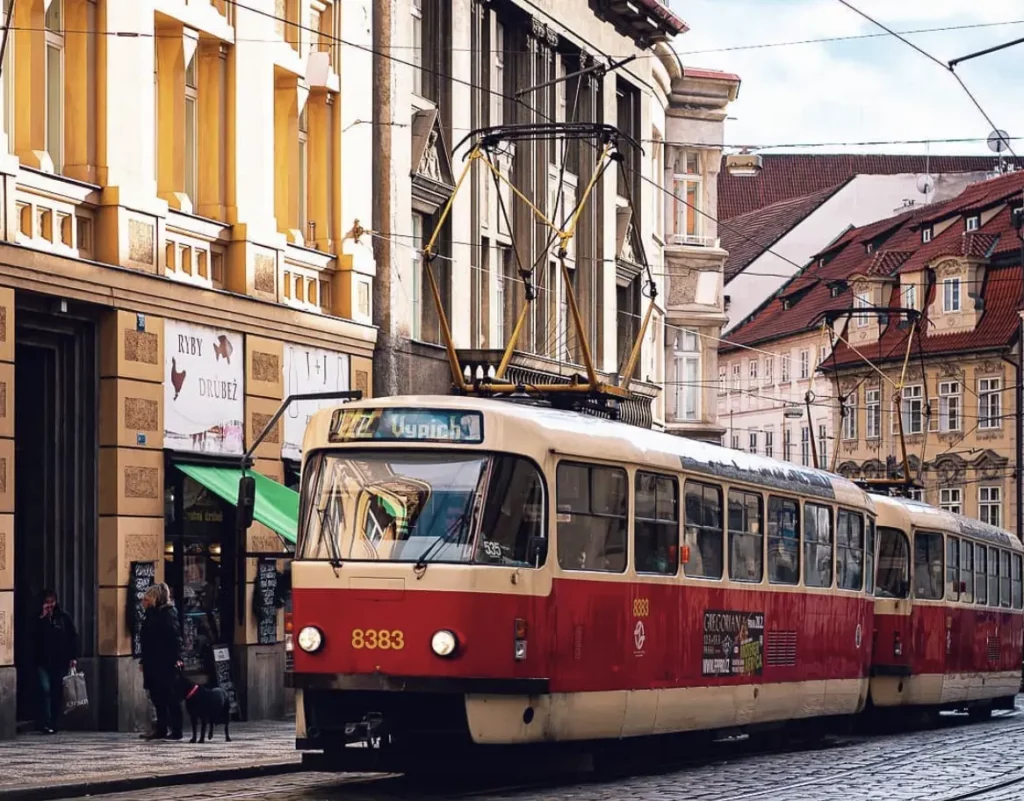 Public Transportation
Prague boasts an efficient public transport system that runs quite late, especially on weekends. The metro operates until midnight on weekdays and until 1 a.m. on Fridays and Saturdays. 
Night trams (identified with numbers starting from 51 to 59) run every 30 minutes from midnight until the early hours, with some routes running more frequently than others. Ensure you buy and validate your ticket before boarding. 
Tickets are interchangeable between trams, buses, and the metro and are valid for a certain period, depending on their price. For example, a 24 CZK ticket is valid for 30 minutes, while a 32 CZK ticket is valid for 90 minutes.
Taxis & Ride-Sharing
While taxis are available, always ensure you're using a legitimate and licensed taxi to avoid overcharges. It's advisable to ask for a fare estimate beforehand or use a taxi app. Platforms like Uber, Bolt, Liftago, and HoppyGo operate in Prague, offering a familiar and often more affordable alternative to traditional taxis.
Safety Precautions
If you're in a group, try to stick together and decide on a meeting point should you get separated. Be aware of pickpockets, especially in crowded areas. Stay alert, especially if you're unfamiliar with the area or it's late at night. Know your limits and drink responsibly. Czech beers and spirits can be potent. 
If you're feeling adventurous, you can try Absinthe, one of the strongest alcoholic drinks in the world. Absinthe is sold without thujone in almost every country except Switzerland, France, and the Czech Republic. 
Thujone is a chemical compound that can have hallucinogenic effects. Be careful about how much Absinthe you drink, as it can be very potent and dangerous.
Stay Connected
Most bars, clubs, and even some public areas offer free Wi-Fi. It might be helpful to have a local SIM card or roaming data to stay connected, especially if you're navigating using maps or ride-sharing apps. Always note down or save local emergency numbers. The general emergency number in the Czech Republic is 112.
Prague's nightlife scene is a fusion of history, culture, and modern vibes. With a little planning regarding transportation and safety, you can ensure that your nights are as seamless and enjoyable as your days in this enchanting city.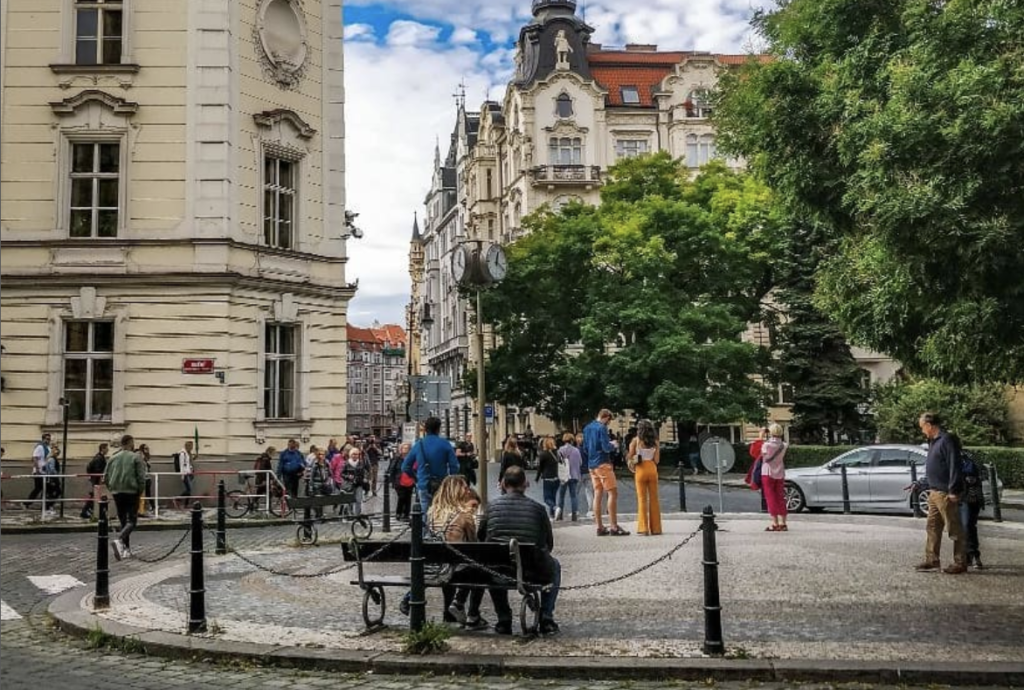 Tips & Tricks for First-Time Visitors to Prague's Nightlife
Prague's nightlife can be an exciting experience, especially for first-time visitors. While the city is generally welcoming, knowing some insider tips can make your nights out even more memorable.
Best Days to Go Out:
Weekends vs. Weekdays

: While weekends are bustling with activity, weekdays, especially Tuesdays and Wednesdays, can be surprisingly lively, offering a more local experience with fewer tourists.
Currency & Payment:
Czech Koruna (CZK)

: Even though the Czech Republic is a part of the European Union, the official currency remains the Czech Koruna. Ensure you have some on hand, especially for smaller pubs or where cards might not be accepted.

Card Payments

: Major clubs and bars in touristy areas often accept credit and debit cards. Always ask beforehand to avoid surprises.
Local Phrases:
While many in the city speak English, especially in the hospitality sector, knowing a few local phrases can be a game-changer. 'Děkuji' (Thank you) and 'Pivo, prosím' (Beer, please) can be helpful.
Happy Hours & Specials:
Seek Deals

: Many bars and pubs offer happy hour deals, typically between 5 pm to 7 pm. It's a great way to start your evening and save some money.
Respect Local Etiquette:
Quiet Hours

: Remember that in some parts of the city, especially residential areas, there are quiet hours, often after 10 pm Ensure you're respectful when moving between venues.
Know the Tourist Traps:
While Prague is generally tourist-friendly, be wary of places that seem overly eager to lure tourists. Overpriced drinks or subpar service can be a downer. It's always good to check reviews or ask locals for recommendations.
Dress for the Weather:
Prague can be chilly, especially in the evenings and during the winter months. Dress appropriately if you're planning to walk or wait outside.
Stay Hydrated:
Czech beers are delicious and can be potent. Ensure you're drinking water in between your alcoholic beverages to stay hydrated.
Get Recommendations:
Locals know best. Whether it's the bartender at your hotel or a friendly local at a cafe, don't hesitate to ask for recommendations on where to go or what to do.
Explore Beyond the Old Town:
While the Old Town is a hub of activity, exploring beyond can lead to some hidden gems, from intimate jazz clubs to quirky bars.
My Final Take
Every traveler finds a niche as the city's historic charm meets its vibrant energy. From the sophisticated ambiance of Hemingway Bar to the diverse vibes at Karlovy Lazne, there's a rhythm to suit every soul.
If I were to distill the essence of Prague's nightlife, it's the intertwining of its rich history with modern beats. It's not just about the places; it's about the stories they tell and the experiences they offer. 
As you dive into Prague's nightlife scene, mingle with locals, understand the tales each venue shares, and immerse yourself in the authentic Czech atmosphere.
So, if I were to guide you on your journey after dusk in Prague, I'd say:
Embrace the moments.

Respect the city's traditions.

Let the Czech capital engrave its memory on your heart.
In Prague, every night out is an experience waiting to be remembered.
Want more of this?
For more things to do, check out our other travel guides.