Seeking the safest places in South America to visit? We understand that safety plays a crucial role in planning your travel itinerary.
Even though South America has had a history of violence and crime, several destinations have made substantial progress in ensuring safety for visitors.
The Global Peace Index 2023 indicates a 0.8% improvement in South America's overall safety score since 2021, making it the second most peaceful region after Europe.
I will show you the top five safest places in South America to visit, judged by the Global Peace Index, crime rates, healthcare, infrastructure, and tourist-friendly nature.
But it's not just the safety these places offer; they also boast awe-inspiring attractions guaranteed to make your trip memorable.
Let's dive into it!
Top Five Safest Places in South America to Visit
Uruguay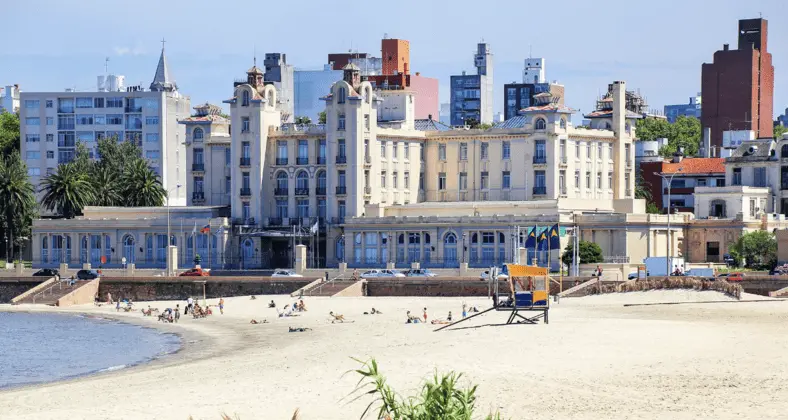 Ranked 50, Uruguay tops our list of the safest places in South America to visit. Besides safety, Uruguay is known for its progressive policies, democratic governance, and environmental sustainability.
The country's rich cultural history, beautiful beaches, and exquisite wine make it an attractive destination for travelers.
Key attractions in Uruguay include the historic Colonia del Sacramento, the resort town of Punta del Este, and the country's largest city, Montevideo.
You can also explore the serene beaches of Punta del Diablo and Santa Teresa National Park or savor the best wines in the Canelones and Maldonado wineries.
Check out: How to Immigrate to Canada From Colombia
Argentina
Ranking 54 out of 163 countries in the Global Peace Index, Argentina comes next in our list of the safest places in South America to visit.
Argentina's diverse culture and natural beauty contribute to its appeal. With climates varying from tropical jungles to subantarctic tundra, it's a land of wonders.
Your visit to Argentina is only complete with experiencing Buenos Aires, witnessing the breathtaking Iguazu Falls, wine tasting in Mendoza, exploring the Lake District in Bariloche, or visiting Ushuaia, the world's southernmost city.
Chile
Chile has a safety rank of 58 and is another haven for travelers. Chile is one of the most developed and prosperous countries in South America, is known for its diverse geography and vibrant culture.
Don't miss out on the stunning landscapes of the Atacama Desert, the mysterious moai statues on Easter Island, the majestic peaks of Torres del Paine National Park, and the rich cultural offerings of Santiago de Chile and Valparaiso.
Paraguay
Paraguay, often overlooked by tourists, is the fourth safest place in South America, ranking 68. Despite its low profile, Paraguay boasts a rich culture and diverse terrain.
When in Paraguay, explore the historic center of Asuncion, the Jesuit Missions, the wilderness of Chaco, the beaches and carnival of Encarnacion, and the scenic Cerro Cora National Park.
Don't Miss: Can Green Card Holders Travel to Mexico Without Visa?
Ecuador
With a safety rank of 97 out of 163 countries, Ecuador rounds out our top five safest places in South America to visit.
Though small, Ecuador is one of the most biodiverse countries, offering unique cultural and natural experiences.
The must-visits in Ecuador include:
Quito's colonial architecture.

The unique wildlife on the Galapagos Islands.

Hiking around the active Cotopaxi volcano.

Exploring the culture-rich Cuenca.

Shopping at Otavalo's famous market.
While these are the safest places in South America, the continent has many other captivating destinations.
Remember, South America's beauty and hospitality will leave you astonished. As always, ensure you research, plan your trip, adhere to local rules, and use common sense.
Happy traveling, and see you again!